fri16dec(dec 16)20:00sat17(dec 17)3:00The Black SalonOpen playnight
Time

16 (Friday) 20:00 - 17 (Saturday) 3:00
Times
Open from 20:00 until 3:00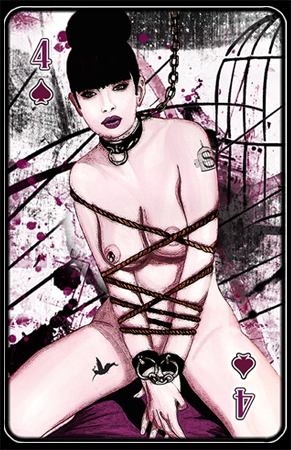 The black salon opens today its doors for an open play night. You can use our various play possibilities. The Avarus appears in the candlelight and, matching the theme, the kitchen serves us with a delicious black buffet.
From the savvy SM player to the interested beginner, everyone is welcome. For those who do not yet own any toys, we have a selection of high quality toys and tools to borrow. You are also welcome to get an introduction from us.
Fill the rooms with life, play your game – everything is possible. You are the mistresses and masters of the night!
After paying the entrance fee you won't have to think about money any longer. You are always welcome to enjoy our complete oasis including our Germany-wide unique love pool and the exclusive sauna, the wide-ranging play areas with the famous love swing and the separate room for those of our guests who prefer more privacy ….
A hint for the non-smokers: Smoking is only allowed in our special smoking room with a big window to the club area, its own air-cleaning system and a always closed door.
Please respect the dresscode. Without propper outfit no admission.
Dresscode
Dresscode
Women:
lingerie, sexy, transparent, sinful, vicious, frivolous, costume, elegant evening wear up to the "little black dress".
Men:
elegant outfit, swinger outfits, fetish, black long pants with a naked torso for example.
We have a changing room with lockers. Jeans, sportswear, white everyday underwear, checkered shirts, loose and light T-Shirts and shoes wich you wore already on the street are not allowed. In exceptional cases, we can clean high heels. Otherwise: barefoot is sexy and not cold – apart from the wellness area, we have carpets everywhere.
Food and Drinks
Drinks
longdrinks, softdrinks, beer
Food
Today we serve you a delicious buffet of cold and warm dishes that also offers vegan and vegetarian dishes.
Entrance fee
Woman
Box office 50 €
Registration 40 €
Man
Box office 120 €
Registration 110 €
Couple
Box office 130 €
Registration 110 €
Please note, that we accept only cash payment. No credit cards!
Please note that we only grant the registration discount for registrations made before the start of the event.
Box office = you visit us without registration
Registration = you register via online form in advance. Only registrations that reach us BEFORE the start of the event are valid. 
Price for a Couple = two persons are included
Price for a Couple = two persons are included
Health Guidelines for this Event
Other Health Guidelines
All regional legal regulations and requirements for containing the corona virus existing at the time of the event are observed.
Next events
17. march 2023 20:0021. april 2023 20:0019. may 2023 20:0016. june 2023 20:0021. july 2023 20:0018. august 2023 20:0015. september 2023 20:0020. october 2023 20:0017. november 2023 20:0015. december 2023 20:0019. january 2024 20:0016. february 2024 20:0015. march 2024 20:0019. april 2024 20:0017. may 2024 20:0021. june 2024 20:0019. july 2024 20:0016. august 2024 20:0020. september 2024 20:0018. october 2024 20:0015. november 2024 20:0020. december 2024 20:0017. january 2025 20:0021. february 2025 20:0021. march 2025 20:0018. april 2025 20:0016. may 2025 20:0020. june 2025 20:0018. july 2025 20:0015. august 2025 20:0019. september 2025 20:0017. october 2025 20:0021. november 2025 20:0019. december 2025 20:0016. january 2026 20:0020. february 2026 20:0020. march 2026 20:0017. april 2026 20:0015. may 2026 20:0019. june 2026 20:0017. july 2026 20:0021. august 2026 20:00
RSVP Now
RSVPing is closed at this time.
Can not make it to this event?Undo registration for this event