9th Orgy Birthday!
Mi14Jun18:00Mi23:599th Orgy Birthday!CELEBRATE THE ORGY'S 9TH BIRTHDAY with us! - THE ORIGINAL !
Uhrzeit

(Mittwoch) 18:00 - 23:59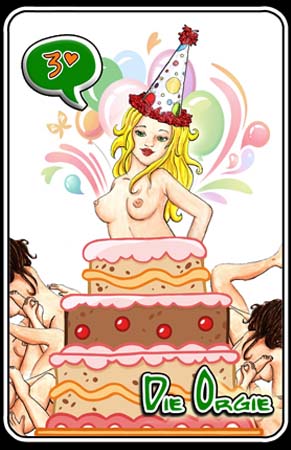 CELEBRATE THE ORGY'S 9TH BIRTHDAY with us! – THE ORIGINAL !
We would like to thank you with 2 rounds of cocktails, a small buffet and 2 extensive chocolate rounds in the steam sauna.
The orgy is the party without limits, where women could be the focus, but also everyone else who wants to celebrate an orgy with us! Here you can and should really let off steam.
F *** ing in the pool, nasty chocolate games in the steam sauna, sex swing, gyn chair and many other play options.
All high-quality drinks and homemade snacks are of course included! When you have paid your obolus with us at Avarus, you no longer need to think about money!
Our entire oasis is always available to you, from our love pool, which is unique in Germany, and the exclusive sauna, to the spacious play areas with our coveted love swing, to the separate private room for our guests with a need for privacy …
The only club in Berlin for non-smokers! There is a nice separate smoking room with a large window to the club, its own ventilation and always closed door.
Dresscode
Women: lingerie, sexy, transparent, sinful, vicious, frivolous, costume, elegant evening wear up to the "little black dress".  
Men: elegant outfit, swinger outfits, fetish, black long pants with a naked torso for example.   We have a changing room with lockers. Jeans, sportswear, white everyday underwear, checkered shirts, loose and light T-Shirts.  
For men and women: Shoes wich you wore already on the street are not allowed. In exceptional cases, we can clean high heels. Otherwise: barefoot is sexy and not cold – apart from the wellness area, we have carpets everywhere.
Food and Drinks
Drinks
Two Cocktail Rounds, Long drinks, soft drinks, beer  
Food
Homemade small buffet, snacks & fruit,
Entrance fee
Woman
Box office 20 €
Registration 15 €
Man
Box office 110 €
Registration 100 €
Couple
Box office 80 €
Registration 70 €
Please note, that we accept only cash payment. No credit cards!
Hygiene Regeln
Weitere Hygiene Regeln
All regional legal regulations and requirements for containing the corona virus existing at the time of the event are observed.
Anmeldung zum Event
RSVPing is closed at this time.