fri03dec(dec 3)20:00sat04(dec 4)4:00Happy Birthday Avarus!We celebrate our 9th birthday today!
Time

3 (Friday) 20:00 - 4 (Saturday) 4:00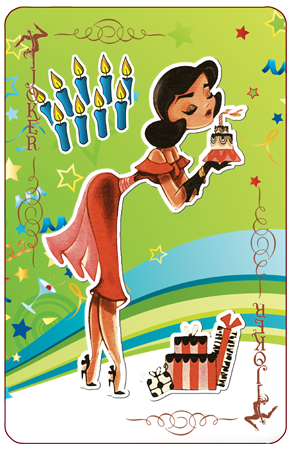 We celebrate the 9th birthday of the Avarus today!
This birthday is very special. After everything we have survived in the last 1.5 years, we feel like celebrating more than ever! And that's why we really let it rip today!
What you can expect today:
***************************************************
Live music!
We are happy to present THE BERLIN SWING CLUB to you.
Andreas Dormann on the clarinet otherwise plays in the MOKA EFTI Orchestra, known from the Berlin Babylon TV-series, and tours through German-speaking countries.
Martin Frick on the double bass tours around the world with the band CORVUS CORAX, plucks the bass with the DRAPERS (known for their worldwide hit "Americano") or burns the bass in a rock n roll band.
Charles Matuschewski also produces music for the Berlin band SEEED, among others, when he is not flown in to London for private piano lessons or is on the road with one of his numerous projects.
THE BERLIN SWING CLUB swing through American standards as well as Django Rheinhardt songs and above all offer the audience numerous original compositions with which they prove that they can give this genre their very own style.
***************************************************
A festive buffet – warm and cold – salty and sweet and incredibly delicious!
Two infusions in the sauna & liquid chocolate in the steam sauna!
AND
A cocktail round – our bartender will pamper you with delicious cocktails.
We have been giving everything for you for the last 9 years! Today you get the full program!
Registration for this event is only possible today via www.joyclub.de.
If you have any questions, take a look at the FAQ page.
Dresscode
Today applies to everyone: festive, elegant, fetish.   ATTENTION: We check the outfit before admission. If you don't have a suitable outfit with you, you unfortunately have to stay outside despite registering.   As always, jeans, sportswear, lumberjack shirts, ribbed knitwear, shorts and all kinds of street clothes are not welcome here today. Street shoes may not be worn in the club for reasons of hygiene.
Food and Drinks
Drinks A round of cocktails, long drinks, soft drinks, beer   Food Today we serve you a delicious buffet of cold and warm dishes that also offers vegan and vegetarian dishes.
Entrance fee
Woman
Box office 60 € Registration 50 € Joyclub Premium 40 €   Man Box office 140 € Registration 130 € Joyclub Premium 120 €   Couple Box office 140 € Registration 130 € Joyclub Premium 120 €   Please note, that we accept only cash payment. No credit cards!
Health Guidelines for this Event
Temperature Checked At Entrance
Other Health Guidelines
All regional legal regulations and requirements for containing the corona virus existing at the time of the event are observed. This is a 2G PLUS event. Access to this event: vaccinated or recovered guests wich are daily tested. Please remember to bring the relevant certificates and a personal document (e.g. ID card) with you. Without checking the certificates and your identity, we are not allowed to let you in.