Special Opening: Pool of love & chocolate
Mo14Jun(Jun 14)18:00Di15(Jun 15)1:00Special Opening: Pool of love & chocolateThe erotic start of the week
Uhrzeit

14 (Montag) 18:00 - 15 (Dienstag) 1:00
Times
Open from 18:00 until 1:00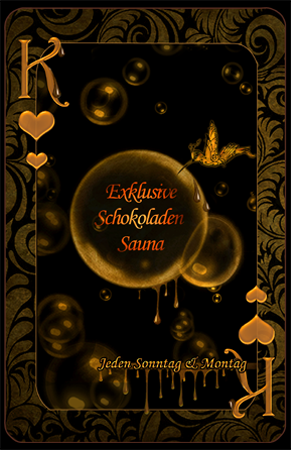 Everyone who was ever able to feel the tender melting of our very secret recipe on his/her skin and enjoyed the feeling of the chocolate treat flowing down the body, would surely not want to miss it any more.
Our exclusive chocolate cream is a sensual erotic experience of its own. It's not only a good care of the skin because of its high-quality ingredients but also of a nice chocolate smell and in accordance also eatable and very delicious. Last but not least it can be washed off easily. There are no limits to your fantasies with this delicious good.
After the erotic chocolate experience you can enjoy even greater pleasures in our Jacuzzi in which you can have lots of fun with your partner or playmate. Our Jacuzzi has one of the most modern cleaning systems which filters the whole water constantly within four minutes. Maximum hygiene is guaranteed.
After paying the entrance fee you won't have to think about money any longer. You are always welcomed to enjoy our complete oasis including our Germany-wide unique love pool and the exclusive sauna up to the wide-ranging play areas with our beloved love swing and the separate rooms for those of our guests who want their privat sphere….
A hint for the non-smokers: Smoking is only allowed in our special smoking room with a big window to the club area, its own air-cleaning system and a always closed door.
If you have questions please check out our FAQ-Page.
Dresscode
An erotic outfit is also welcome on wellness days. Wrapped around towels are not welcome. Please bring extra shoes with a clean sole. If you want, you can also walk barefoot or rent flip flops from us. BUT: we have a changing room and do not expect you to stand in front of the door in lingerie 😉
Women: lingerie, sexy, transparent, sinful, vicious, frivolous, costume, elegant evening wear up to the "little black dress".
Men: evening wear, swinger outfits, fetish, sexy shorts, long black pants with a naked torso for example.
We have a changing room with lockers. Jeans, sportswear, white everyday underwear, checkered shirts, loose and light T-Shirts and shoes wich you wore already on the street are not allowed. In exceptional cases, we can clean high heels. Otherwise: barefoot is sexy and not cold – apart from the wellness area, we have carpets everywhere.
Food and Drinks
Drinks
longdrinks, softdrinks, beer
Food
snacks, fruit, small dainties
Entrance fee
Woman
Box office 50 €
Registration 45 €  
Man
Box office 120 €
Registration 110 €
Couple
Box office 120 €
Registration 100 €
Please note, that we accept only cash payment. No credit cards!
Please note that we only grant the registration discount for registrations made before the start of the event.
Box office = you visit us without registration
Registration = you register via online form in advance. Only registrations that reach us BEFORE the start of the event are valid. 
Price for a Couple = two persons are included
Price for a Couple = two persons are included
Hygiene Regeln
Weitere Hygiene Regeln
All regional legal regulations and requirements for containing the corona virus existing at the time of the event are observed.
Anmeldung zum Event
RSVPing is closed at this time.