The Christmas Orgy
Fr22Dez(Dez 22)20:00Sa23(Dez 23)3:00The Christmas OrgyWeihnachtliches Drunter und Drüber
Uhrzeit

22 (Freitag) 20:00 - 23 (Samstag) 3:00
Times
Open from 20:00 until 3:00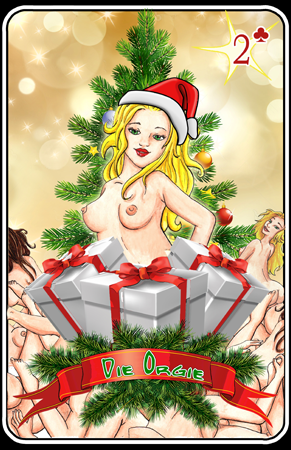 The bells never ring sweeter … the day after tomorrow is Christmas Eve. With us today! We celebrate very differently than usual. Nice to enjoy…
Today there are some surprises that we don't usually have on Wednesdays. For example chocolate in the steam bath! A pre-Christmas gourmet buffet. And lots to snack on!
With us you can and should really let off steam.
F***ing in the pool, naughty games in the steam room, sex on the love swing, gyn chair and many more ways to play.
After paying the entrance fee, you no longer need to think about money with us. Our entire oasis is always available to you, from our love pool, which is unique in Germany, and the exclusive sauna to the spacious play areas with our coveted love swing, to the separate booth for our guests who need privacy…
Another special feature, especially for non-smokers: there is a nice, separate smoking room with a large window overlooking the club, its own ventilation and a door that is always closed.
Parking spaces are usually very easy to find on Hungary Street.
Do you have any questions? Here you will find the answers!
Dresscode
Women:
lingerie, sexy, transparent, sinful, vicious, frivolous, costume, elegant evening wear up to the "little black dress".
Men:
elegant outfit, swinger outfits, fetish, black long pants with a naked torso for example. We have a changing room with lockers.
NO-GOs: Jeans, sportswear, white everyday underwear, checkered shirts, loose and light T-Shirts.
For men and women:
Shoes wich you wore already on the street are not allowed. In exceptional cases, we can clean high heels. Otherwise: barefoot is sexy and not cold – apart from the wellness area, we have carpets everywhere.
Food and Drinks
Drinks
longdrinks, softdrinks, beer
Food
Today we serve you a delicious buffet of cold and warm dishes that also offers vegan and vegetarian dishes.
Entrance fee
Woman
Box office 50 €
Registration 40 €
Man
Box office 120 €
Registration 110 €
Couple
Box office 140 €
Registration 120 €
Please note, that we accept only cash payment. No credit cards!
Please note that we only grant the registration discount for registrations made before the start of the event.
Box office = you visit us without registration
Registration = you register via online form in advance. Only registrations that reach us BEFORE the start of the event are valid.
Price for a Couple = two persons are included
Anmeldung zum Event
OpenSpaces Still Available