UWEs Birthday Orgy at Avarus!
Mi22März(März 22)18:00Do23(März 23)1:00UWEs Birthday Orgy at Avarus!The birthday orgy!
Uhrzeit

22 (Mittwoch) 18:00 - 23 (Donnerstag) 1:00
Times
Open from 18 pm till 1 am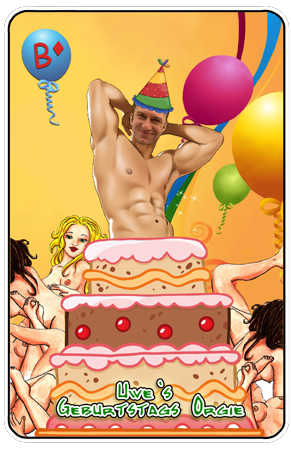 Today we celebrate with Uwe his birthday. He wishes for a wild haywire and lots of people having loads of fun. This evening promises to be boisterous and very funny. Uwe is happy about EVERYONE who celebrates with him!
You can expect a small cold and warm buffet and lots of fun and games at the playground!
Dresscode
Dresscode
Women:
lingerie, sexy, transparent, sinful, vicious, frivolous, costume, elegant evening wear up to the "little black dress".
Men:
elegant outfit, swinger outfits, fetish, black long pants with a naked torso for example. We have a changing room with lockers.
Food and Drinks
Drinks
Long drinks, soft drinks, beer
Food
A small cold and warm buffet
Entrance fee
Woman
Box office 20 €
Registration 15 €
Man
Box office 110 €
Registration 100 €
Couple
Box office 80 €
Registration 70 €
Please note, that we accept only cash payment. No credit cards!
Please note that we only grant the registration discount for registrations made before the start of the event.
Box office = you visit us without registration
Registration = you register via online form in advance. Only registrations that reach us BEFORE the start of the event are valid.
Price for a Couple = two persons are included
Anmeldung zum Event
RSVPing is closed at this time.