Fuck in May - Our Walpurgis Night!
So30AprMo01MaiFuck in May - Our Walpurgis Night!Devilish infusions in Finnish Sauna!
Uhrzeit

April 30 (Sonntag) 20:00 - Mai 1 (Montag) 3:00
Times
Open from 20:00 until 3:00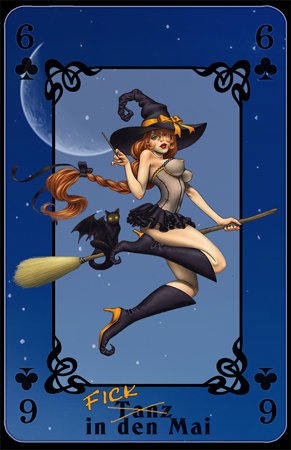 While others dance their feet sore, we want to f*ck!
"Beltane" is the name of the Celtic festivity, the festival of life and fertility on the first of May. It is blooming and sprouting in every corner and the young plants are green and juicy. It is just as fruitful and juicy with us. With Maibowle we drive away the evil spirits and traditionally celebrate the beginning of the warm season, love and union.
Surrender to the energy of this night and enjoy the magic that resides in it. With us you have the opportunity to enjoy this night in a sociable, intimate atmosphere instead of just letting it fly by with the usual beats.
Our specialty buffet and high-quality drinks ensure your physical well-being. Strengthened like this, nothing stands in the way of a pleasurable evening. Relax, spend, discover or try. Whatever you feel like, in our playroom you can let your imagination come true and transform the stress of the week into an unforgettable night.
Also try our unique love pool (with pool approval!). It is equipped with one of the most modern cleaning systems, so that you can also pursue your inclinations here without hesitation.
After paying the entrance fee, you no longer need to think about money with us. Our entire oasis is always available to you, from our Germany-wide unique love pool and the exclusive sauna, to the spacious play areas with our coveted love swing, to the separate booth for our guests who need privacy…
Another special feature, especially for non-smokers: there is a nice, separate smoking room with a large window overlooking the club, its own ventilation and a door that is always closed.
Parking spaces are usually very easy to find on Hungary Street.
Dresscode
Women:
lingerie, sexy, transparent, sinful, vicious, frivolous, costume, elegant evening wear up to the "little black dress".  
Men:
elegant outfit, swinger outfits, fetish, black long pants with a naked torso for example.  
We have a changing room with lockers. Jeans, sportswear, white ribbed knitwear, checked shirts and shoes that you have not brought with you and that have been cleaned of course are not permitted in our other rooms. We can also clean high heels on site in exceptional cases. Otherwise: barefoot is sexy and we're not cold – except for the wellness area, we have carpeting everywhere.  
For men and women: Shoes wich you wore already on the street are not allowed. In exceptional cases, we can clean high heels. Otherwise: barefoot is sexy and not cold – apart from the wellness area, we have carpets everywhere.
Food and Drinks
Drinks
longdrinks, softdrinks, beer  
Food
Today we serve you a delicious buffet of cold and warm dishes that also offers vegan and vegetarian dishes.
Entrance fee
Woman
Box office 50 €
Registration 45 €  
Couple
Box office 140 €
Registration 120 €
Please note, that we accept only cash payment. No credit cards!  
Please note that we only grant the registration discount for registrations made before the start of the event.  
Box office = you visit us without registration
Registration = you register via online form in advance.
Only registrations that reach us BEFORE the start of the event are valid.   Price for a Couple = two persons are included
Anmeldung zum Event
RSVPing is closed at this time.